FUN STYLES FOR VALENTINE'S DAY!
Written by Jessica Tellez, Hairstylist at Urban Betty
Here are a few at home options for your Valentine's Day fun! Whether you're staying in with a heart shaped pizza or heading to Jeffrey's, your day (or night) can be elevated with these easy to do styles!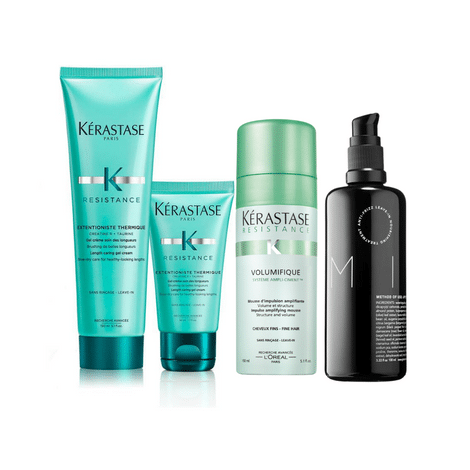 STYLE 1
If you're anything under mid 30's, you're probably unfamiliar with the Caruso Roller System. Each roller is heated through the use of steam on the roller holder. It heats up quickly! In this video, you can watch Chelle, our amazing salon owner, add a little panache to her blonde bob!
STYLE 2
There's more than 1 way to get some beautiful waves! As you can see in this video of Madison, she's going for beachy waves with a good ol' fashion curling iron. Pay close attention to how her curling iron is used at the base first, and then pulled straight at the end of each section so the curl itself stays away from 1990 prom hair.
STYLE 3
Now for the easiest solution, the waving iron! With this next video, we'll work with a waving iron, making it the easiest, although sometimes awkward, tool to use. Katie works so well with this iron and her waves are gorgeous, and even gives a few tips on making sure the area around your face is properly waved!
STYLE 4
Smoothing out your hair with a flat iron can sometimes be a challenge. Sometimes there's a crimp at the base, sometimes it feels like you're burning your ends. There's a new tool out there! It's called the thermal flat iron and again, our Chelle is here for a great little tutorial on how to use it effectively!
Here are a few protips!
If you've never used one of these tools, try it with a cold iron (or curler) until you feel comfortable and confident with the motions.
When using the curling iron, it's important to use the iron in the direction of the barrel and the clamp. Otherwise, you'll end up with a crimp.
Products! It's essential you use appropriate concoction for your hair type and the style. That will typically mean a leave-in conditioner, heat protection, styler like a mousse or gel, and possibly a very light oil. After your style is complete, you'll want to finish off with a balm, texturizing spray, and/or a light hair spray. Here is an example of a grouping if your hair type is soft or limp and you're struggling with volume.