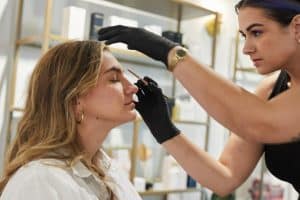 Professional Waxing in Austin, Texas Performed by Expert Estheticians
It's time to throw shaving and tweezing out with the bath water! Let our licensed estheticians do the hard work for you while reducing discomfort and making you feel right at home. Book waxing in Austin, TX, today to easily achieve your desired look at Urban Betty Salon and Spa! We offer men's and women's waxing packages for the face and entire body at our 38th Street Salon and Spa. Eyelash and eyebrow tinting services are also available for gorgeous brows and eyes.
Urban Betty Waxing
Waxing in Austin! Browse our list of services for men and women:
Brow Wax $30-$40
The Chella Brow Makeover includes brow waxing guided by an expert who selects the best brow shape for your face based on your desired results. After the waxing service, your certified esthetician will select the perfect color to fill and highlight your brows using Chelle eyebrow cream or pencil, creating a natural-looking brow that compliments your face.
Brow Wax & Tint $70-$115
Book a Brow Wax & Tint to tackle unruly eyebrows with the help of our professional estheticians. This service includes brow waxing to shape and clean up your eyebrows paired with brow tinting.
Deluxe Brow Makeover $180-$250
Immerse yourself in the ultimate brow makeover experience with our Deluxe Brow Makeover which includes brow wax, tint, and lamination.
Bikini Wax $60-$80
Beginning slightly inward past the bikini line, an area of approximately two or three inches wide is waxed from the top of the bikini area to the buttocks. This option is great for a natural look.
Bikini Plus Wax: $65-$85
Almost all of the bikini area is waxed including any hair on the buttocks near the bikini line. This wax does not touch the labia.
Brazilian Wax: $85-$105
The entire area is waxed from front to back! If desired a strip of hair can be left on the front, just above the pubic bone.
Full Face Wax: $60-$80
Everyone's patch of unwanted hair grows in different places. If you are tired of looking at the hair on the sides of your face, this waxing service is for you.
Deluxe Wax Experience: $125+
Stay soft and smooth with our deluxe waxing package. This service includes Brows, Underarms, and your choice of a Bikini or Brazilian Wax!
Cheek Wax: $20-$30
Whether it's peach fuzz or a little bit more, getting rid of unwanted cheek hair is easy with a Cheek Only Wax service.
Chin Wax: $20-$30
Are spare chin hairs driving you crazy or causing you to feel a little less like your gorgeous self? Chin waxing at Urban Betty is an ideal solution for targeting undesirable hair growth on your chin.
Lip Wax: $20-$30
Lip waxing with a professional esthetician helps to reduce discomfort and tackle sensitive skin. At Urban Betty, we have the professional knowledge to avoid damaging delicate areas like the upper lip.
Nose Wax: $23-$33
Waxing removes hair from the follicle leading to longer-lasting results, which is perfect for the nose area. Cut back on primping time at home with a simple nose wax service performed by an Urban Betty professional waxing artist.
Underarm Wax: $40-$60
Does shaving your armpits feel like a never-ending task you have to perform too often? Underarm waxing makes life easier with longer-lasting results! Book your appointment today!
Full Face Wax: $60-$85
Everyone's patch of unwanted hair grows in different places. If you are tired of looking at the hair on the sides of your face, this waxing service is for you.
For total transparency in May of 2020, instead of raising our service prices, we are implementing a small service charge (based on the price of complete services), to help cover the cost of supplies and maintenance throughout the salon.
Urban Betty is now a Green Circle Salon! We repurpose and recover up to 95% of the resources that were once considered waste, materials such as hair, leftover hair color, foils, color tubes, aerosol cans, paper, and plastics. We do charge a small Eco Fee ($2.50) to keep this program running. If you would like this taken off your bill, please inform the front desk at checkout.