Written by Audrey Sundqvist, Hairstylist at Urban Betty
If you're anything like me, you've probably been plagued by that inexplicable magnetic force that pulls you in towards the most expensive things before even seeing the price tag. Hey, no one's blaming you for liking nice things — but let's face it, we don't all have bottomless Gucci wallets!
I'm here to fill you in on a few things that can help keep your hair looking like it's worth a fortune without breaking the bank — and what's even better is it requires WAY less work on your part!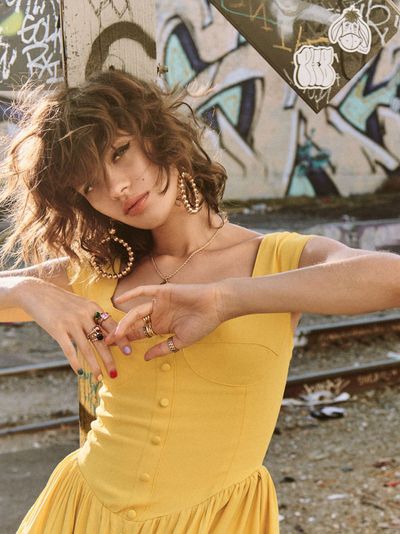 1. MONEY-PIECE
My personal favorite way to give my client's hair some fresh POP only takes about 6 foils. Yeah — you read that correctly — six. Rather than dropping the big bucks every single time you visit your stylist for a full dimensional balayage, just ask for a touch up "money-piece" when you're due for a re-fresh! If you're completely new to the color world and you just want fresh looking hair — you're still the perfect candidate for a beautiful money-piece. After all, it's called money-piece for a reason (it looks expensive!). Another low-maintenance color option is a gloss treatment. This is a great way to add a little pigment and shine to your hair to keep it looking fresh, shiny, and boujee.
— Pause for a quick disclaimer —
It's important to have a thorough consultation with your stylist about your options and
pricing, especially if you're operating on a strict budget. Your hair may need more than 6 foils to get the look you want. It may be easier to tell your stylist how much you can spend and they'll offer suitable suggestions for you based on that information! This will spare any confusion and sticker shock at the end of your visit, which can easily be avoided!

2. EXTEND TIME BETWEEN SALON VISITS
Extend the time between salon visits to save a little bit of money in the long run. Depending on what color service you normally receive you might be able to push your reoccurring appointments back by a couple of weeks. Ask your stylist if this is an option for you. (If you're a blonding client who gets your roots retouched with lightener — this wouldn't be in your best interest, sorry!) Most people who have their hair professionally retouched can usually push their future appointments back by another week or two and still get the same great results! The industry standard has always been roughly 3-6 weeks between color touch-ups and closer to 6-8 for balayage touch-ups, but usually you can get away with a little longer in between. I schedule some of my balayage clients about 12 weeks between their color services! I know what you're thinking —"I couldn't possibly look at my roots after 6 weeks! She's nuts." Try teasing your root area at the crown and along your part-line. It's a simple way to diffuse the line of regrowth and make it less obvious, while at the same time achieving some extra lift! You can also grab a stylish headband or scarf in those extended weeks to cover up the regrowth — what's not to love about a fun hair accessory? This isn't for everyone but if you're considering grabbing a box color to alleviate your bank funds, think again. Fixing a box color mishap will cost you WAY more than your professional routine maintenance! Promise.
Side note: For our short hair clients and those who are rocking bangs—did you know that at Urban Betty we offer complimentary bang trims and clean-ups between your scheduled haircuts? This literally enables you to extend your haircut appointments by a week or two in between! Ask your Betty about this!
3. EMBRACE YOUR NATURAL TEXTURE
2019 has been all about natural, textured looks. Put the heat tools away for a while and give your hair a much needed rest! Your hair will feel better and, trust me — it will LOOK more up to date! Boujee hair rarely ever looks fried, right? Try braiding your hair before it's completely dry and sleep on it rather than blow-drying and using a heat tool to get those beach waves. Silk pillow cases help keep frizz down in the natural drying process. If you have a stronger curl pattern and you're open to the idea of rocking your natural texture for a while I recommend using ONLY conditioner and ONLY Everything by Nina Fitzgerald. These products are pretty new on the market and let me tell you — they've been a HIT with our curly hair clients at UB! These products have a super clean ingredient list and they help curly hair thrive without creating buildup on the hair. Game changer!
Less can be MORE! Or should I say, low budget can still look expensive.