COLOR TECHNIQUES: WHAT'S THE DIFFERENCE?
Written by Audrey Sundqvist, Hairstylist at Urban Betty
So, you've found the perfect color on Pinterest and now you're ready to book your next hair appointment! Yessss! But, is it really a Balayage that you're looking for or is it a dimensional highlight? You may not think it makes that much of a difference when you're scheduling your appointment, but it does! Here are the reasons why: time, cost, and expectations. Let me explain.
Balayage, baby-lights, slicing, teasy-lights, bleach & tone, and root smudge—these are all techniques that are used to achieve a certain look and they all serve a very different purpose. They aren't necessarily bound to a certain result and they can be combined to achieve the result, so it's important to be open to allowing your stylist to use whatever technique they choose depending on what you're asking for. For example, during my consultation appointments I'll have clients sit in my chair and show me their picture of inspiration and they've already decided that they want "this balayage" when in fact, the picture is the result of a heavy, teasy-light foil with a root smudge. It may be disheartening to learn that you're not actually getting a balayage or that your stylist doesn't have enough time blocked off to give you what you really want, so I'm going to explain the difference between the more common techniques that are used by most stylists today.
BALAYAGE
This technique is ideal for the most natural dimensional result (think sunkissed). Balayage is a hand-painting method that is often left to process in open air, with mesh squares or plastic wrap. Did you know that the balayage technique is only meant to lift the hair by 2-3 levels max? It will NOT take you from brown to platinum! Really, though. Usually, a clay-based lightener will be used for this process because it sits on the surface of the hair to keep as much depth (natural color) as possible. This is a great option for you if you're new to hair color, just want a subtle change, or if you can't commit to frequent salon visits to keep it looking fresh. A balayage has an incredibly graceful grow out! Below is an example of a subtle balayage.

DIMENSIONAL HIGHLIGHT
This technique may take a little longer to complete than a balayage because it requires smaller sections of hair to be foiled. Your stylist may choose to weave or slice each section of hair depending on the amount of hair that needs to be lightened (or darkened for low-lights). Generally, the result of a traditional foil will give your hair dimension from the roots to ends and depending on how bright you like it the regrowth may be a little more obvious as it grows out.

TEASY-LIGHTS
This method is like a traditional foil except your stylist will carefully tease each section of hair before applying lightener to it in a foil. Teasing the hair creates a soft cushion of hair that will be left untouched at the root area. This technique is very effective for someone who wants to go significantly brighter with their overall hair color while maintaining a natural, blended root. This technique is also rather time-consuming so make sure you let your stylist know ahead of time!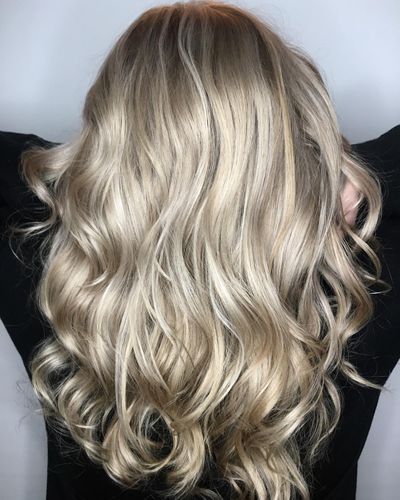 BLONDING (BLEACH & TONE)
Think Gwen Stefani or Marilyn Monroe. You've probably seen some horrific Bleach & Tone videos on Youtube if you've contemplated doing this on your own at home. The application for a blonding session will depend on how much of the hair needs to be lightened to achieve an all over blonde result and this process can be incredibly time consuming. This service usually requires a little extra attention from your stylist to ensure the integrity of your hair stays reasonably healthy and can take several back-to-back applications to achieve the level of blonde that you want if it's your first time having this done. Blonding sessions are almost always followed with a toner to balance the color so plan accordingly when scheduling your appointment.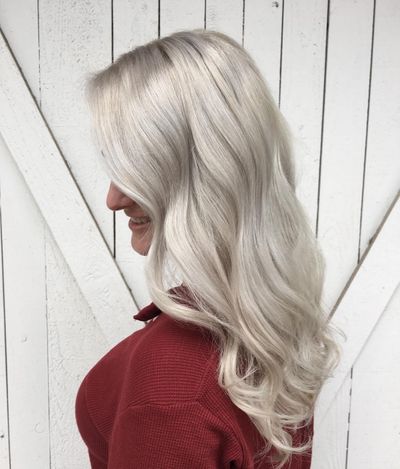 OMBRÉ/COLOR MELT
Both techniques involve some form of color blending, whether taking the ends of the hair lighter by using lightener or using color at the base (or a combination of both) to create an overall gradient from dark to light on the hair. Gradient colors may look like a simple task; however, they involve very detail-oriented blending techniques to avoid harsh lines in the resulting color. Plan on sitting with your stylist for roughly the same time it might take them to complete a full highlight on your hair.

ROOT SMUDGE
This technique can be done over any type of color and usually only takes an additional 15-30 minutes if a semi-permanent color is being used. In some instances, your stylist may decide to use a permanent color to deepen or blend your roots depending on your current hair situation, which could take a little more time. Root smudging is generally used to create a shadow of depth at the root area and will gradually wash out over a 4-6 week period. Below is an example of a shadow root.
It's always helpful to explain to your salon receptionist or stylist as many details about your current hair situation and your goal so that they can schedule your appointment accordingly. Online scheduling is becoming more common too, so if you find yourself questioning which services you should reserve for your appointment I recommend scheduling yourself for the most time-consuming option (example, I'm not sure if I should schedule myself for a highlight or a color? Choose the highlight option because it takes more time and it will allow your stylist to accommodate you accordingly rather than the other way around!)