WHY TO TAKE IT SLOW WHEN YOU'RE GOING BLONDE PART 2
Written By Jenni Drake, Hairstylist at Urban Betty
In part 1 of 'Why to Take It Slow When You're Going Blonde', I explained what natural hair goes through and the amount of work it takes to get the hair to a lighter color. If the hair is naturally dark AND has box dye, it is much more difficult and more time is needed to remove not only the natural pigment, but the artificial dyes and extra ingredients as well.
Here in part 2, I will delve into artificial hair color. For hairstylists, there are two types:
1. Professional salon color
2. Everything else
Professional hair color, which is defined as color that has been applied by a licensed professional in a salon, is always a breeze for me to remove. The ingredients are higher quality and generally do not obstruct the goal in mind.
Everything else is an entirely different story. Specifically, box dye.
In my experience, I have seen some extreme cases of DIY color. The worst cases in terms of removing or correcting box color has been when the client has the desire to go blonde from having a very dark brown/black color on their hair. Your hair will always have color on it when it's colored. It will not "fade off".
The only way to fully get rid of previous color is to cut off the colored hair.
I have had clients choose not to disclose what is actually on their hair because they didn't want to deal. Not disclosing what is on your hair can result in patchy, uneven results. It's almost thought of as if its not mentioned it didn't happen. Which will not go well.
BOX DYE VS. PROFESSIONAL SALON COLOR
Here is an example of a client who had box color on her hair. The hair lifted to a brassy, uneven result.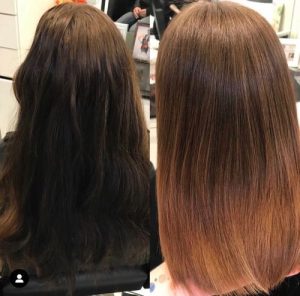 Here is a photo example of a client that had previous professional color on her hair. The hair lifted much more evenly as well as to a higher level with a non-brassy, cooler result.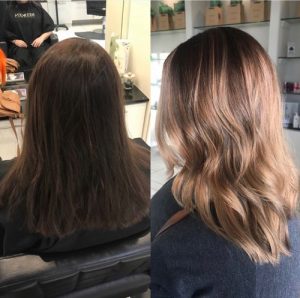 THE BLEACH DOESN'T LIE
When hair is completely virgin, even at a brown-black color, it will have a less orange tone when lifted as opposed to box color which turns very orange. Also, if there is a fashion color such as blue or pink under a dark brown, bleach will unveil those vibrant colors as well as drive the color further into the hair.
There is room for worry when removing box color. Some box color may contain metallic salts along with many other additional ingredients that are not in professional hair color lines. These minerals may cause a reaction if you go straight to lightening the hair and they have not been removed from the hair.
There are pre-service treatments available for removing box color and other minerals from hard water build up, which I highly recommend. They help to remove any residual bits of color and artificial extra ingredients left in the hair that can interrupt the lightening process that may cause further damage. A color remover service is always a good place to start to see how much of the box color can be removed before resorting to bleach lightener.
So although it might seem easier to say your hair is all natural or that color has "faded off", once the lightener touches the hair the truth will come out one way or another. It is always ideal to be completely open and honest the way you would with a doctor, in order for the stylist to determine the smartest approach to reach the goal in mind.