THE PERFECT ROUTINE FOR KINKY CURLS
Written By Ayesha Cobb, Hairstylist at Urban Betty
Hello! I'm here to share my hair routine for super dry, kinky, curly hair. My hair is high in porosity, chemically-treated (bleached and toned), a medium density/texture, and my hair type is 4A. See the below chart of the different curl types.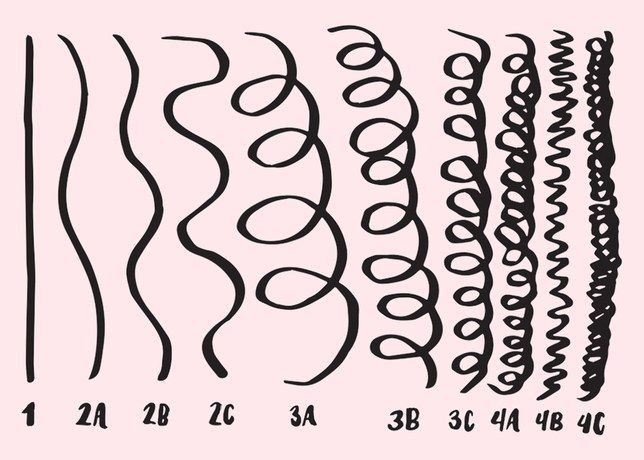 It takes me 24 hours to do my hair because the routine is not just a quick shampoo and conditioner. The process involves a pre-wash, detangling, shampoo, a vinegar-rinse, a deep conditioner, the LOC method, as well as a night-time hair routine.
PRE-WASH
When I know I have the next day off, I'll oil my scalp and hair before bed. Applying oil to the hair helps to break up the sebum oil that is produced on the hair and scalp. I usually use olive oil for the scalp and a shea-butter/olive-oil mixture for the mid-shaft to the ends of my hair. First, I'll section my hair into 4 sections and then I'll apply the oil. Afterwards, I twist the sections up, put a shower cap on my head, and go to sleep.
CONDITION & DETANGLE
My hair tangles easily and dries out because it is very porous. To combat this, I have to condition my hair before I shampoo. I keep my hair in the 4 sections during this step. I use a silicone-free conditioner and then comb out any tangles with my tangle-teaser brush. Then, I rinse my hair out using hot/warm water.
SHAMPOO
I shampoo my hair after the conditioner, but only on my scalp. I first dilute my shampoo with water and then only apply the shampoo mixture to my scalp and scrub it in. Then, I rinse with hot/warm water.
VINEGAR-RINSE
The vinegar-rinse is something new that I have recently added to my hair regimen. It removes buildup as well as balances the pH in the hair to help create shine. With my hair still in the 4 sections, I squeeze the bottle onto my scalp all the way to the ends of my hair. I scrub the scalp and comb the rest under water. After rinsing with warm water, my hair is ready for the deep conditioner.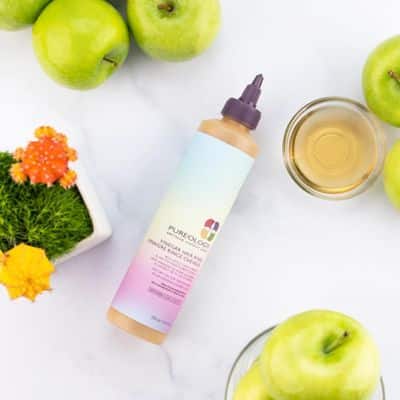 DEEP CONDITION
I alternate between using a moisturizing deep conditioner and a protein-rich conditioner on different weeks. After using a generous amount of deep conditioner in each of the 4 sections, I'll put on a shower cap for 20 minutes. Afterwards, I rinse out most of the conditioner with lukewarm/cold water. Cold water seals the cuticles, making the hair shine, and it also locks in the benefits of the conditioner. I make sure that I don't rinse out the deep conditioner completely, leaving just enough so that my hair has some silk to it.
LOC STYLING
The LOC method stands for stands for leave-in-conditioner, oil, and cream. I usually add styling product to my hair in the shower because I need it to be wet. I've been using Only as my leave-in conditioner because I love the texture, it smells amazing, and it's also silicone-free. I distribute it throughout my hair with my tangle-teaser brush. Next, I use shea-butter for the oil step, rubbing it all over my hair and combing it through. My hair has to be dripping wet in order to create defined curls—so if my hair isn't wet enough, I will re-wet it during this process. Lastly, for the cream step I use Kérastase Elixir Ultime Le Masque because it's a heavier product. I dry my hair with a cotton t-shirt and wear a cotton scarf around my neck to catch any excess water. Regular towels have a comb-like texture that create extra frizz, which is why I prefer to use a cotton t-shirt.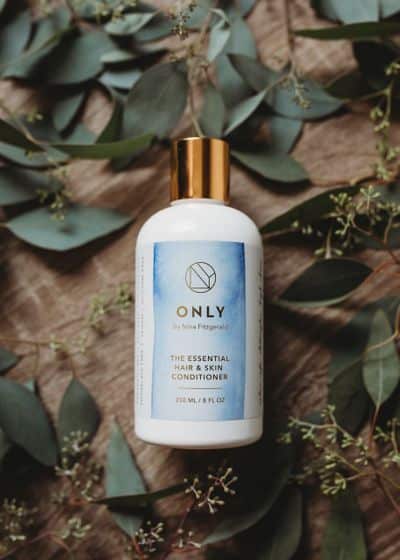 NIGHT-TIME ROUTINE
In order to get volume in my hair, I do not use a hair pick. I use rubber bands and tie up my hair into 6 sections, which makes my hair look like Pippi Longstocking's. Then, I tie a silk scarf around it while I sleep. In the morning, I take out the rubber bands and fluff my hair out by shaking it with my hands the next day.