HEALTHY LOCKS PART 2: SCALP HYGIENE
Written by Natali Marie, Hairstylist at Urban Betty
Do you have an oily scalp? Is it dry or sensitive? Or perhaps you have an oily scalp with dandruff. Regardless of the issue you are dealing with, I have some great tips to share that can help. Follow along and I will give you a guide to a healthy scalp, the KEY to gorgeous hair!

OILY SCALP
Let's start with oily scalp. I hear this one a lot, especially oily roots with dry ends. This is a tough one!
Some Common Causes of Oily Scalp:
Hormonal imbalance
Humidity
Diet (you know that's going to be one!)
Using the wrong hair products for your needs
Over-shampooing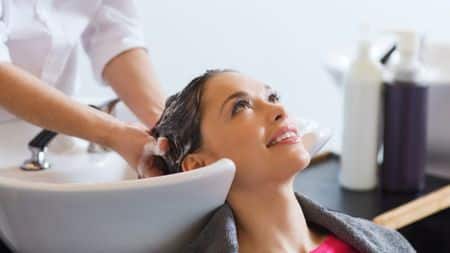 Things that can help:
Stop using drugstore hair products, they are very harsh on your hair and scalp! Instead, opt for good quality salon products that meet YOUR individual needs. The best part about using salon products is that you and your stylist can discuss your needs and she/he can help you get on the proper hair/scalp care regimen.
Use a purifying shampoo 1-3x per month to remove build-up and excess oils.
Scalp Treatments are AMAZING! Our in-house Fusio Scrub is life-changing! We have one specifically for oily scalp that includes cooling peppermint essential oil (MY FAVE) and a scalp massage! Yes please! Talk to your stylist next time you are in about getting one of these indulgent treatments.
Use cool water (not only will this help your scalp, but will also keep color longer and is easier on the hair).
Eat a balanced diet of healthy fats, protein, carbs, including bright colored fruits and veggies.
Stop using products with heavy oils and silicones! If you have dry hair, and need extra moisture, talk with your stylist about what products would best suit your needs – WE ARE HERE TO HELP!

FAVORITE OILY SCALP PRODUCTS
Here are some of my favorite products:
ONLY by Nina Fitzgerald – these products are pH balancing, contain NO oils, NO silicones, and NO harsh ingredients
Pureology Purifying shampoo
Kerastase Specifique line for oily roots, sensitised ends
DRY, FLAKY, IRRITATED SCALP
What if I have a dry, flaky, irritated scalp? Let's look at some underlying issues:
B vitamin deficiency
Eating too many sugary foods, too much salt, not getting enough omega 3's
DEHYDRATION!
Here are some tips that can help:
Please DO NOT use Head & Shoulders! It is very harsh and can cause further irritation to the scalp and strip the hair of moisture.
Again, scalp treatments are AMAZING! Our in-house Fusio Scrub has one specifically for dry, sensitive scalp that includes calming sandalwood essential oil and a scalp massage!
Try lessening the frequency that you are shampooing. I recommend going at least 2-7 days in between washes, depending on your hair type.
Add in those B vitamins! I take Pure Encapsulations B Complex Plus and I get them from Amazon.
I can't stress enough the importance of drinking plenty of pure, clean, filtered water! Remember from Part 1: Drink half your bodyweight in ounces per day.
Cut back on desserts (I know, it's hard!) and consuming too much salt. If you haven't yet, switch to pink Himalayan salt to get those extra minerals. Eat lots of healthy fats, like avocados, olive and coconut oil, and wild-caught salmon

FAVORITE DRY SCALP PRODUCTS
ONLY by Nina Fitzgerald – You can use the conditioner as a co-wash; it is soothing to the scalp and conditioning for the hair and it won't strip the scalp of necessary oils. A true ALL IN ONE! The whole line is great for all things, especially scalp health. Some products include aloe and honey that are so soothing and healing. Also, the line's new gentle shampoo is AMAZING!
Redken Scalp Relief is amazing, I love combining it with the ONLY conditioner!

FOUNDATION FOR HEALTHY HAIR
There you have it! Remember, a healthy scalp is the foundation to growing healthy hair. It's easy to ignore scalp health sometimes because we are so focused on the ends, but that is already dead hair. The new hair coming in is from the scalp, and when its environment is healthy and cared for, the hair growing from it will be too!