BREAST CANCER AWARENESS MONTH
Written by Holly McDermott and Jessica Tellez, Hairstylists at Urban Betty
As we hop into fall, it's important for us to remember that October is not only for pumpkins and costumes, but it's also a time for us to raise support and awareness for Breast Cancer. Most people have been affected by breast cancer in one way or another, and Urban Betty would like everyone to join us in the fight against breast cancer this month! Below are a few ways you can contribute to this cause:
1. HAIR DONATION
Here at Urban Betty, we offer half-price donation haircuts to clients! We send all donated hair to Pantene Beautiful Lengths. As a salon, it was important to send our donated hair to Pantene because the campaign offers free wigs made of real hair to women with cancer. If you would like to donate your hair, you must donate at least 8 inches of hair, the hair cannot be permanently bleached, colored, or chemically treated, and it must be less than 5% grey.
2. PINK HAIR EXTENSIONS
Don't have enough hair to donate? Don't worry! During the month of October, Urban Betty is offering $15 for a single pink extension, and $10 for each additional extension. These extensions are made with real hair, so you can wash and heat-style them with the rest of your hair! All proceeds for these extensions will go to the Breast Cancer Research Foundation.
3. DIRECT DONATIONS
If the first two options aren't for you, we will also be accepting money donations! Just drop any cash or change into the jar located at the front desk when you check out at your appointment! All proceeds will go to the Breast Cancer Research Foundation.
Last October, we rallied around one of our very own Betty's as she battled Breast Cancer. Below is a note from Jessica Tellez.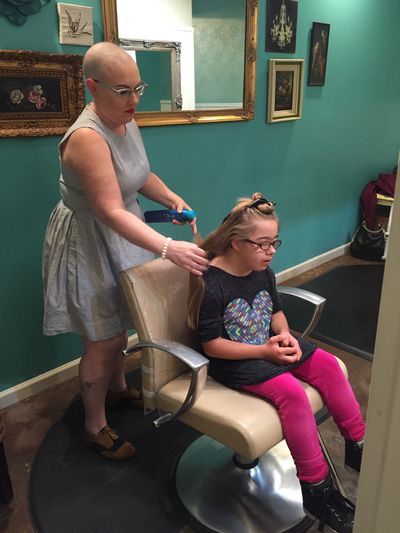 A NOTE FROM JESS
As the recipient for last year's Breast Cancer Awareness fundraiser, I thought I would take a few minutes to write about my experience with breast cancer, Urban Betty, this fundraiser and how it helped to support me.
As a Betty, I am a part of an amazing team of supportive women. After the initial shock of hearing my diagnosis, all I wanted was to be surrounded by my ladies and they took it to heart. Every single one of them was there when it was time to shave my head. They were there to cover me in warm towels after treatments. Chelle provided an assistant for me and through her amazing social media network, she helped elevate a GoFundMe that was started by my best friend. Kim set up a calendar to have people send food and house cleaners. And then, on top of all of that, I was informed I would be the benefactor of this event. The fact is, cancer is expensive. Like VERY expensive. I had one daughter at home, and the other daughter with her sweet-cheeked baby in tow, moved home to help. Every dollar helped and Urban Betty heard that call.
When I think back on my experience with cancer, I think of my family, friends, work community, and how their efforts carried me across the finish line. I was diagnosed on May 3, 2017 and by Nov 6, 2017, I was finishing up my last chemo session. My surgery was on Dec 19, 2017. Those dates are seared in my memory. But, I never could have made it without my family, friends, and my Urban Betty community.