Written By Jenni Mardis, Hairstylist at Urban Betty
Hello summer 2019! Self expression is alive and well in fashion this year. The Met Gala even held a fun theme of "CAMP". Celebs went all out with exaggerated looks. I was living for it. The event inspired what is walking around this season for everyday people. There's a little something to tickle everyone's fashion fancy this year, whether you love bright pops of color or want to sport the natural gal you were born to embrace.
I always feel a great color can't be justified without a great cut to accompany. Cuts across the board are shorter. Here's what to ask your stylist for if you want to enhance your natural side:
A one length perimeter hitting the collar bone with slightly shattered long layers to taper off the ends. This could potentially be a great "wake up and go" cut given your hair texture permits.
For my bolder babes ask for a French bob. Make it SHORT. I'm talking all the way to the jaw line or shorter. To a point there may be undercutting involved at the nape leaving room to play around with buzz cuts and etched designs under the bob. It's still a one-length cut but with no layers and possibly a fun or curtain bang or shaggy face frame. This requires more styling and product depending on how short.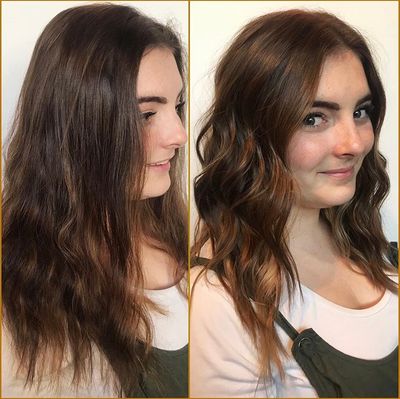 Hair color is where I get excited. Once I have my cut or the "canvas", the color becomes part of the walking art that I create in my chair. The ladies who want their hair to whisper in color difference will need to go for something that is one or two levels lighter or darker than their natural. A mix of high and low lights playing with those two level differences can add some really fun dimension.
Ombré is back in, but again only for one or two level difference from the natural color.
For the risk takers, to go with your blunt bobs, choose jewel tone pastels with a kick of vibrancy as well as taboo colors such as green, yellow, and orange.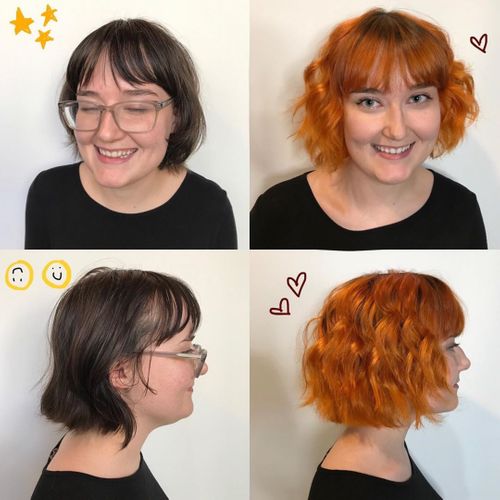 Alternate fun colors to try on both ends of the spectrum:
Gold
Inky black
Ash blue grey
Baby blonde
Copper
I vote for more of you to part your hair down the middle. Although you may not think you look good with it, change is in right now; so, run with it!
Accessories are a great expression tool as well. Find pieces that look like jewels, beads, flowers, animal print, and neon.