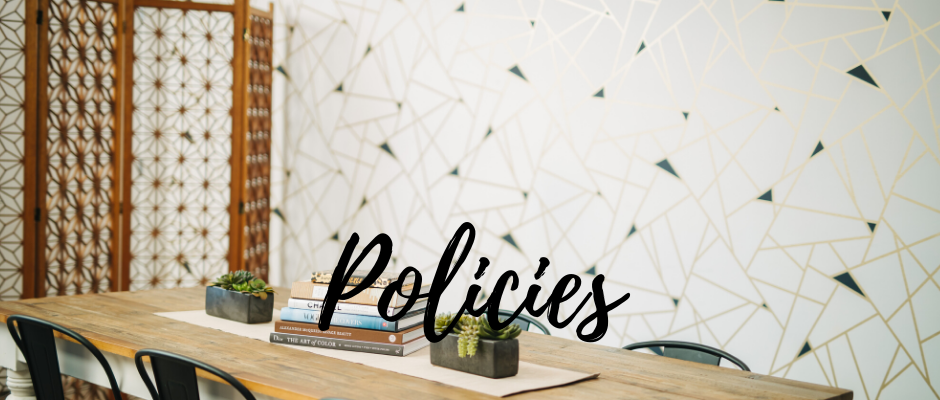 Green Circle Salon
We are proud to announce that we are a certified Green Circle Salon, which makes us 90% sustainable! For all hair services, a $2.50 eco fee will be added at checkout. Our eco fee helps us to repurpose and recover up to 95% of the resources that were once considered waste.
To learn more about this amazing Green Initiative, click here to read our blog.
As of May 2020:
For total transparency, we are implementing a small service charge (based on the price of complete services) to help cover the cost of health insurance and retirement for our employees, as well as maintenance throughout the salon.
Cancellation Courtesy
Every appointment is specially reserved for you! As a courtesy to Urban Betty, our staff, and waiting clients, we request a 24-hour advance cancellation notice. A credit card number is required to reserve an appointment but will not be charged unless the appointment is canceled within 24 hours of scheduled service.
No Show, we are sad you missed your appointment . . . since your stylist is unable to fill that spot, we will charge you 50% of the services.
No-Show, the second time; we miss you! And our stylists have been waiting . . . 100% of the services will be due.
The first cancellation with less than 24 hours' notice, no worries . . . things happen. It's on us! Any cancellation after that follows the No-Show rules above.
Please understand that when you forget or cancel your appointment without giving enough notice, we miss the opportunity to fill that appointment time, and guests on our waiting list miss the opportunity to receive services. Since the services are reserved for you personally, a No Show fee will apply. If you are more than 10 minutes late, your reservation may be rescheduled.
Children
Due to the relaxing nature of the Urban Betty experience, we respectfully request children be brought to the salon only when the child is receiving a service.
Pets
As much as we love our furry friends, please leave your pets at home. It is against TDLR regulations for animals to be inside a salon unless it is a service animals.
Gift Cards
Gift Cards may be purchased for:
Any dollar denomination
Any service or combination of services
Urban Betty is not responsible for lost or stolen cards. They must be presented at the time of the service and are not refundable.
Returns/Refund policy
Our online options for purchases of gift cards or gift certificates are non-refundable. All Gift Cards and gift certificates never expire.
Service appointment deposits are refundable within 48-hour prior to cancellation.
If you are dissatisfied with a service you have received, we are happy to provide you with the opportunity to return to the salon for us to redo the service. Redos are scheduled exactly like regular appointments and are provided at no charge. The only qualification that we make in providing redos is that you call to schedule the redo within two weeks of the original service and that the redo is scheduled with the same stylist who provided the service. However, in the case that the original stylist has no time available or if you feel that the technician is unable to provide the service, an exception may be made. The redo may be scheduled with another technician.
Please note services provided by apprentices are not guaranteed. Our salon stylists will not provide you with a redo for an apprentice service. You must schedule the redo with the apprentice who originally provided you with the service.
We take great pride in our quality products. If you are dissatisfied with a hair product purchase, we will assist you with a prompt exchange or refund within 30 days of purchase.
Sorella Apothecary and Chella skincare products are non-refundable. Please ensure that when purchasing skincare products, you are properly informed about ingredients that work best for your skin type. Skincare products take 4-6 weeks to take effect.
Trying a Different In-House Stylist
We realize that you may need to switch to a different stylist based on a variety of reasons – schedules, prices, or sometimes just to get a different perspective. Please feel free to ask us for a referral to another in-house stylist. All of our stylists are very supportive of one another. We keep detailed records of your service history and color formulas. All our stylists have equal access to this information. And don't forget, we have our own in-house apprenticeship program. Therefore, many of our stylists have received their training from our own senior stylists. In this way, we can ensure that no matter who you see, you will receive the same high-quality service to which you have grown accustomed.
Method of Payment
As of March 1, 2022, Urban Betty will no longer accept cash payments. All major credit cards are accepted. A credit card is required to reserve an appointment but will not be charged unless the appointment is canceled within 24 hours of scheduled services. Please note that credit cards may be used for the payment of salon products and/or services only. Checks are not accepted. A 50% deposit is required at booking appointments over $500.00. Cash tips are preferred but not required. Please note that your stylist is responsible for tipping his or her assistant out of their own tips.
Privacy Statement
We are committed to protecting your privacy. Authorized employees within the company on a need-to-know basis only use information collected from individual customers. Information collected about our clients is not shared with any other organization. We constantly review our systems and data to ensure the best possible service to our customers.
Terms and Conditions
Effective Date: May 20, 2016
Urban Betty Inc. provides the content of this website and services available on the website www.urbanbetty.com. Our terms and conditions set forth the standards of use of our website. If you do not agree to the terms and conditions of this agreement, you should immediately cease all usage of this website.
1) Please review our Privacy Policy in order to understand our privacy practices.
2) Urban Betty Inc. is providing visitor(s) with information about its services along with the ability to purchase gift cards and book appointments.
a) All visitor(s) are responsible for acquiring the necessary tools to view our
website and for any fees related to this connection.
b) This website may be used for your own private purposes and in accordance with these terms of use. You may print and download material from this Website provided that you do not modify or reproduce any content without our prior written consent.
c) It is not necessary to register with us to view our website. However, you will need to create an account in order to purchase gift certificates or book appointments.
3) All reasonable measures are taken by us to ensure that this Website is operational all day, every day. However, occasionally technical issues may result in some downtime, and accordingly, we will not be liable if this website is unavailable at any time.
4) Acceptable Use.
You must not use our website in any way that causes, or may cause, damage to the website or impairment of the availability or accessibility of the website in any way which is unlawful, illegal, fraudulent, or of harmful purpose.
5) Third-Party Sites.
Our Web site may include links to other sites on the Internet that are owned and operated by online merchants and other third parties. You acknowledge that we are not responsible for the availability of or the content located on or through any third-party site. We encourage all Visitors to review said privacy policies of third-parties sites.
Email/ Text Message Lists
When you book your first appointment with Urban Betty, you will be automatically added to our respective email and text message lists. This allows us to send you reminders about your appointment(s) and promotional messages about the salon, product updates, and discounts. You may unsubscribe from these lists at any time, and if you have any issues or questions, you can contact us directly by emailing katiej@urbanbetty.com.