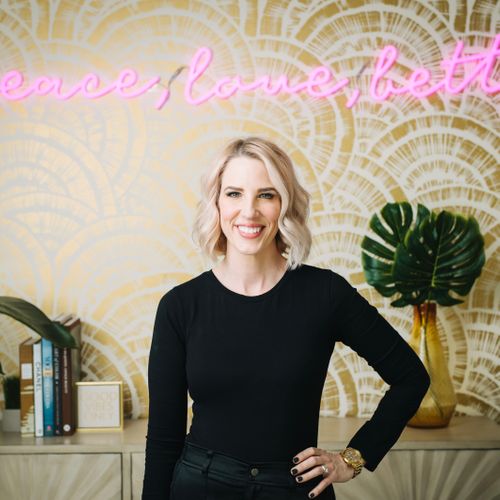 Chelle Neff
Founder of Urban Betty
Betty "Chelle" Neff had a drive to style hair from a young age when she intuitively knew by age ten that this was her calling while growing up in Abilene, Texas. By the age of 16, she enrolled in cosmetology school, and by 18, became licensed. Chelle was hungry to learn more and keep challenging herself to upgrade to higher-end salons before finally nabbing a suite at a Salon Suite space. Being independent led to a need for a business identity. And thus, the Urban Betty brick and mortar was born, inspired by the name Betty which is her grandmother's name (and whom she is named after).
In January 2005, it was time to hang out the Urban Betty name on her shingle, opening up her first salon in Central Austin. She opened and gained one employee within six months (who is still employed by her to this day) and only had six chairs to start. Chelle ran all aspects of Urban Betty from reception to accounting and styling clients to promotions and marketing. She firmly believed that "if you build it, they will come," and so she persevered and, after an expansion in September 2015, is now the owner of one of the largest independent hair salons in Austin, Texas. So successful was the first salon a second Urban Betty salon opened in February 2019. In 2017 she also launched a series of education classes for the general public and stylists called Betty Bootcamp.
In 2018, Chelle joined the Advisory Board of Cosmetology for the Texas Department of Licensing and Regulation. The purpose of the Advisory Board of Cosmetology is to advise the Commission and department on adopting rules, setting fees, and enforcing and administering the Act, as applicable. Members also serve on a voluntary basis and reap a rewarding experience leading the industry and furthering the reputation of the Texas Cosmetology profession.
Chelle is making a bigger impact for women all over the world, as she recently joined the Community Engagement Committee for Whole Planet Foundation, a non-profit organization committed to poverty alleviation. Whole Planet Foundation partners with microfinance institutions that offer the world's poorest with access to microloans with no formal collateral and low-interest rates. Most of the entrepreneurs who receive microloans are women who traditionally have fewer resources and less access to financial services. Chelle helps Whole Planet Foundation's initiative through her involvement and contribution in committee meetings with fundraising and connecting other business owners to the foundation's mission.
Chelle is also a board member for Austin Classical Guitar, a non-profit organization that does educational outreach to children through music. ACG's education team and online curriculum support programs in over forty Austin area schools and in hundreds of schools around the world. Each year for the last four years, Urban Betty holds an event for the public and donates all the proceeds of that event to Austin Classical Guitar.
In 2019, Chelle joined Impact Austin with over 500 other members who pool resources for a combined larger impact. Impact Austin is now one of the nation's largest women's philanthropy groups. It is dedicated to helping women achieve their full philanthropic capacity.
Early in her career, Chelle placed 2nd in the nation-wide Wella hair colorist of the year contest. Urban Betty has continued that award-winning trend by being named one of the top 200 salons in the U.S. by Salon Today Magazine 7 times. Her stylists have won an Austin Fashion Week Award, a Golden Boot for Best Hairstylist 2011, and numerous awards from the Austin Chronicle Best Of Awards. In 2014 Chelle received a golden boot from Austin Fashion Week for Philanthropist of the Year. In 2016 Chelle was awarded as the Entrepreneur & Startup of the Year by Austin Under Forty. In 2016 & 2018, she was a finalist in the Women's Way Awards for the Service Industry category. In 2018 Urban Betty was named the 'Best of the Best' by The Austin American Statesman. In 2018 & 2019, Inc. 5000 named Urban Betty as one of the fastest-growing privately held companies. Nationally syndicated Beauty Podcasts interview Chelle for her advice and inspiration in the industry.
No stranger to innovation, Chelle designed and developed an app, FyleStyle, which allows stylists to track client information and color formulas.
And, she and her husband David J. Neff created the Austin Weird Homes Tour – a self-paced, self-driving tour of Austin homes that reflects the unique character of the city. The tour has expanded to cities such as New Orleans and Houston, and they came out with their first book, Weird Homes: The People and Places That Keep Austin Strangely Wonderful.