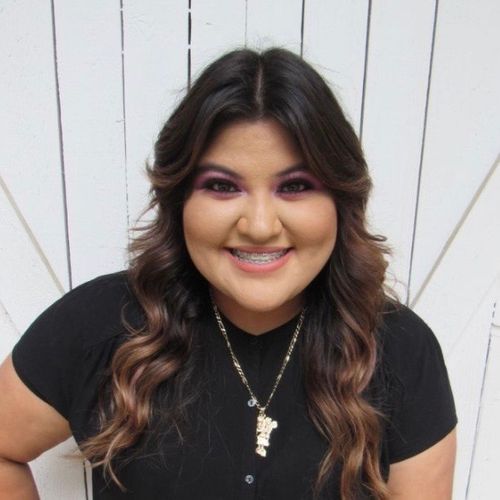 Vanessa Gamboa
Hi, I'm Vanessa! I was born in Laredo, Texas but was raised in Austin. I love my hometown and heritage but have an affinity for Austin. I've always had an interest in hair since I was a little girl, doing curls, braids, and cutting hair for my closest friends and family. I received my certification from the Aveda Institute in Austin and graduated in February 2019. Hands down, my passion for hair lies in cutting to create shape from the inside out with my scissors and showing clients how to easily style their hair.
When I'm not creating beautiful hair from behind the chair, I love dancing because it makes me feel connected to my heritage. Put me on a dancefloor and play some cumbia or reggaeton and good luck taking me away! Another passion of mine is cooking. My specialty is making homemade green enchiladas and I love teaching people how to make them perfectly. I grew up speaking Spanish, am bilingual, and love teaching other people by helping them practice new languages and aiding them in their studies.
The best thing about my industry is getting to meet new people from so many different backgrounds. Being a part of Urban Betty has been such a wonderful experience, it truly feels like an extension of my family and fills me with so much pride. I'm here to spread my joy for creating beautiful hair across Austin, TX.
Pricing
Color Retouch (roots only)
Special Occasion (non bride)