GET IN TOUCH WITH YOUR INNER BLONDE
Written by Jessica Tellez, Hairstylist at Urban Betty
Let's face it. We live in the south. In addition to big hair and being friendly, we also love a good blonde hair color. So, I wanted to touch on the level of commitment; ways to appropriately determine your blonde tone; and why some people should absolutely go for it even if their hair is really dark.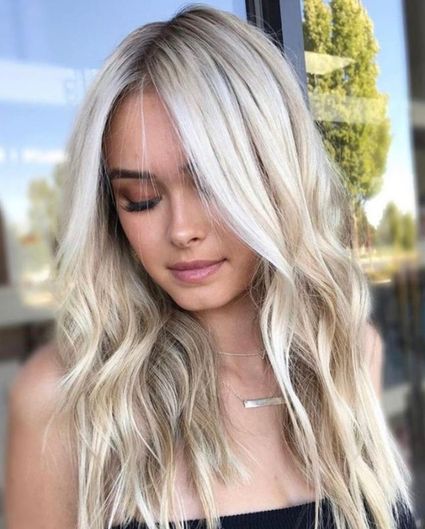 COMMITMENT
First, let's establish that the further you get from your natural hair color, the more commitment you're in for. There are so many commitment level options, especially considering balayage and it's popularity as a hot trend. Blonding options range from teasy lights to traditional foils, balayage to ombre, and halo highlights to sombre. For this reason, you can truly tailor your hair to your own commitment level. Here's a small breakdown of each of these techniques in order from highest to lowest on the commitment meter:

 TECHNIQUES
Traditional Foils: With this technique, your highlights go all the way to the root. Depending on the toner you decide on and how far away you get from your natural base color, you can still get fairly natural looking results.
Teasy Lights: A great in-between for balayage and traditional foils; You'll get much lighter results with them but the highlights themselves wont get as close to the root; You're looking at the "rooted look" at this point
Halo Highlights: Typically just a few lighter pieces around the face; Sometimes they're used as a try-on or intro color; These are designed to grow out easily
Balayage: The combination of highlights and ombre, depending on what you and your stylist decide to do
Ombre: A color melt with very little, if any, dimension in the fabric of the hair
Sombre: A softer version of ombre
(These are all VERY basic definitions, so if your stylist explains it differently, just know there are MANY interpretations of each of these techniques.)
When considering commitment levels, be completely honest with yourself. Will you really be in the salon every 6 weeks? If you decide on balayage, you may be able to go 4-6 months before really needing to get it updated, but don't forget you'll most likely need toners in between to keep your hair looking fresh and free of yellow. And again, don't forget about the first statement! The further you get from your natural, the more you need to commit!

SELECTING YOUR SHADE OF BLONDE
When deciding which blonde to choose, consider three things:
Skin Tone: Your inspiration pictures should be of people with a similar skin tone. Take note of undertones, time you spend outside and if that will also affect your skin tone. Are you one to hide from the sun year round or do you frequent tanning booths? Does your nearest spray tan salon have YOU on speed dial?
Natural Hair Tone: Similar to skin tone, make sure you're searching for the right hair tone. If your inspo pic is of a model straight out of norway and you have Asian-decent dark brown hair, you're not being realistic!
Hair Texture: Do you have 5 hairs on your head and they've been colored with box color for the last 10 years? Then think again. If your stylist says no, please don't push it. There's a reason. If your hair isn't strong enough to handle lightening at the moment, it may be one day with the right products to strengthen it. If your hair is strong enough and you've been given the green light, select pics with a similar texture.

100,000,000,000 REASONS TO GO BLONDE
Ok, maybe just a few?
Greying: Are you going crazy grey and coloring your hair dark every three weeks? It might be time to consider it then! It might be a lot of money up front but in the long run your trips to the salon decrease (aka, cheaper over time).
You've been thinking about it for a long time: Your bestie is blonde and you're a dark brunette. You would love to check it out but you're nervous about tones, skin color, and condition of your hair. I'm here to tell you, ANYONE can be a blonde. You just need to research the right blonde for YOU. Talk to your stylist. Be candid. Be honest with your past experiences and expectations. And truly listen to them.
You want a change: Going blonde doesn't have to be expensive or time consuming. It can be as simple as a few pieces around your face in the late spring to get a jump on summer! It can be a few pieces under your hairline to add a bit of fun.
There are plenty of ways to have your personality show through in your hair. Blonde is certainly not the only way! But if it's something you're considering, talk to your stylist! Who knows? Maybe they've been waiting for you to bring it up first!

NEXT UP: DIVING DEEPER INTO TONES OF SKIN AND HAIR!