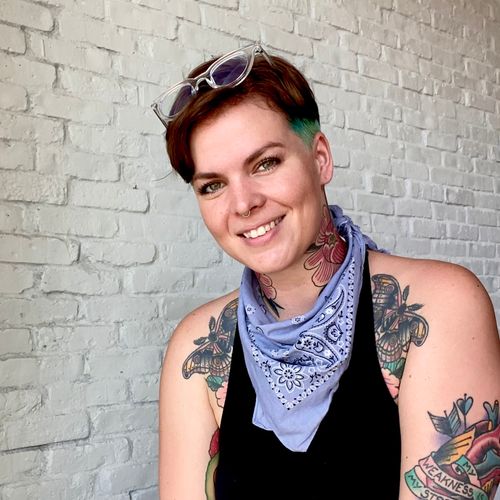 Bre Hayth
Hairstylist
Howdy 🤠
We wanted to drop in and show y'all a good look at our stylist Bre & give any that are new here a little backdrop about them as an artist at Urban Betty
Bre is a 29yr old Leo ♌️ (they/them). They grew up in ATX + Dripping Springs and have been doing hair behind the chair for 6 years!
They are thoroughly in love with their career and are passionate about helping people create confident expressive looks.
While they enjoy all hair projects, they have a huge soft spot for mullets, pixies, & shag haircuts. For color, some of their specialties are reds & honey tones 🍯 but don't hesitate to bring them something different! They love the range of work they get to do.
Their favorite thing about their career is y'all (no joke). They have always wanted to live 1000 lives and getting to talk to wonderful diverse humans makes them feel like they get access to so many perspectives. So please, next time you're in the chair, tell them what lights you up! ✨
Outside of hair, you can catch them out dancing with their chosen family, having brunch with their momma, and chillin' with their fur babies. They love art in all mediums. Their desire to explore keeps them consistently picking up new hobbies and experiences… also a billion new personal aesthetics 😂 so don't be surprised if they look completely different when you see them next time!
They can't wait to get to know you & collaborate 🧡
All prices listed are base pricing and are subject to change and increase without notice.