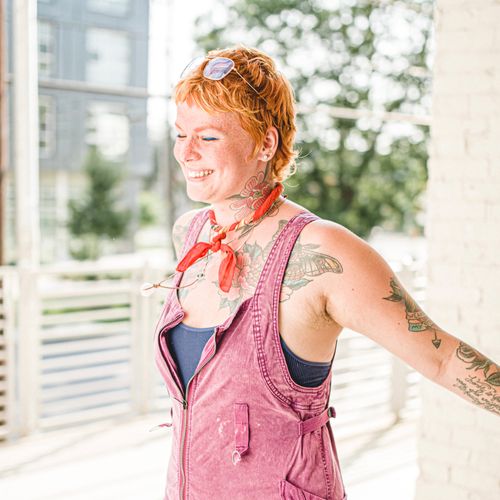 Suni Daze
Hairstylist
Howdy Humans!
My Name is Suni! (Sun-e) ☀️ My pronouns are they/ them and I am a stylist at Urban Betty Salon SOCO.
I have been with UB for almost two years now, and behind the chair for nearly 7! My specialty is helping people reconnect to themselves by empowering them through self-expression and identity liberation! My work is for anyone that wants to invest in themselves and feel beautiful inside and out. 🦋 ✨
I do all styles of hair for all people including; lived-in colors, fashion tones, mullets, shags, straight hair, curly hair, and all the textures in between! I specialize in natural yet vibrant copper tones.
Bring on those honey hues and copper colors y'all! 🍯 🍊
My work is highly customized. I believe you and your hair should work with one another as an integrated part of your life.
My goal as a human and stylist is to stay present and learning every day with the people and environment I engage with. When you're in my chair, you can expect a lot of fun banter, and education to boot! 🤠
Outside of hair, you can typically find me swimming at Barton Springs 💦 , sweating it out in some hot yoga 🫠, and dancing to a disco beat 🪩. When I'm not frolicking about with my partner, friends, and husky pup, I'm most likely cuddled up at home with our two kitties or tinkering on whatever new interest I have picked up. 🎨 🏄 🏕
I love hearing what others are fascinated by so next time I see you, tell me what's lighting you up in life! 🧡
All prices listed are base pricing and are subject to change and increase without notice.